The Best Essential Oils For Skin
Get your FREE Essential Oil Guide!
Subscribe to get the latest and greatest in your inbox!
This post may contain affiliate links. Please read my affiliate disclosure for more info.
Click here to check out dōTERRA's monthly deals!
What can I say? I'm a sensitive guy.
So many commercial cleansers and moisturizers on the market contain harmful toxins, and so this is a a recurring issue for me.
I've found that a lot of commercial skincare products tend to irritate my skin, and so I've resorted to making a lot of my own skincare products and relying on 100% pure, Certified Pure Therapeutic Grade essential oils.
Scroll down and read on for my top 8 essential oils for skincare!
Cleansing: Melaleuca Essential Oil
Melaleuca (aka, Tea Tree) essential oil is probably best known for its purifying properties. With over 92 chemical compounds, Melaeluca is chemically diverse and offers some amazing health benefits!
When used topically, Melaeuca can be used to cleanse and purify the skin to promote a healthy complexion.
Ways to try Melaleuca:
For occasional skin irritations, apply 1-2 drops of Melaleuca essential oil.

If you have acne-prone skin, try combining 1-2 drops with your facial cleanser for added cleansing properties.

Apply to skin after shaving.
Calming: Lavender Essential Oil
Lavender is one of the commonly used and popular essential oils - and it's no wonder why. Aside from its emotionally therapeutic benefits, traditionally Lavender essential oil has been used for its calming and soothing effect on the skin.
Apply topically to reduce the appearance of skin imperfections.

After sun exposure, apply to the skin with aloe vera to soothe.

Add to your body or face lotion to help reduce redness and irritation.

Apply to burn wounds to support the body's natural healing process.
Clarifying: Cedarwood Essential Oil
Cedarwood has a nutty, woody, sweet scent and provides a myriad of benefits! Frequently used in massage therapy to relax and soothe the mind and body, it also is great for your skin!
If you have oily skin, try adding Cedarwood essential oil to your toner or facial moisturizer for oil control, and promote clear, healthy-looking skin!
Renewing: Frankincense Essential Oil
The "King of Oils," Frankincense is the Swiss Army Knife of essential oils.
In ancient Egypt, Frankincense was used for everything from perfume to soothing skin salves. It's soothing and beautifying properties are used to rejuvenate skin and help reduce the appearance of imperfections, and is known to support healthy cellular function and renewal.
Protecting: Helichrysum Essential Oil
Helichrysum, referred to as "The Everlasting Flower," is known as one of the best essential oils for skin! It's one that I always make sure to keep in stock.
With chemical components that can help improve the appearance of skin, Helichrysum oil is a smart addition to any skincare regimen.
One of the greatest benefits of Helichrysum oil is that it provides a safe, natural way to improve your skin. So many commercial cleansers and moisturizers on the market contain harmful toxins, but using a pure essential oil like Helichrysum to improve the skin allows you to keep your skin clean and protected.
Also, it happens to be one of my favorite scents! If it wasn't such a precious and expensive oil, I'd diffuse it every day!
Anti-Aging: Myrrh Essential Oil
Ancient records show that Myrrh was deemed so valuable that at times it was valued at its weight in gold. Today, it's anti-aging properties might make it just as valuable for some us!
Derived from the gummy resin of a small, thorny tree, Myrrh has been used for centuries. It has extraordinary cleansing properties, is perfectly moisturizing, and promotes a smooth, youthful-looking complexion.
Revitalizing: Spikenard Essential Oil
Spikenard is an "Anointing Oil", used traditionally in Ayurvedic health practices in India and to anoint people of high honor. The essential oil is distilled from the roots of a flowering plant that is native to high altitudes in the sub-alpine and alpine regions of the Himalayas in Nepal.
Most notably, Spikenard promotes clean, healthy skin. It is moisturizing, revitalizing, and can add a youthful glow.
Combine with a moisturizing cream to soften and smooth skin.

Add one to two drops to your facial cleanser or anti-aging products.

Because of its revitalizing and renewing properties, try applying Spikenard topically to tattoos as part of your tattoo-care regimen.
Spikenard has a very pronounced musty and floral scent that can be overpowering - I recommend using it in small amounts.
dōTERRA's Anti-Aging Blend: Immortelle
Immortelle (dōTERRA's proprietary Anti-Aging Blend) is the ultimate essential oil blend for your skin: it combines powerfully renewing, rare essential oils used throughout history for their beautifying effects and is formulated to protect and nourish.
Essential oils in Immortelle Anti-Aging Blend include:
Frankincense Resin

Hawaiian Sandalwood

Lavender Flower

Myrrh Resin

Helichrysum Flower

Rose Flower
Immortelle easily absorbs into the skin. Try applying it to your face, neck, and décolletage to reduce the appearance of fine lines, wrinkles, and aging skin.
If you have sensitive skin (like I do) try diluting in jojoba or sweet almond oil before applying.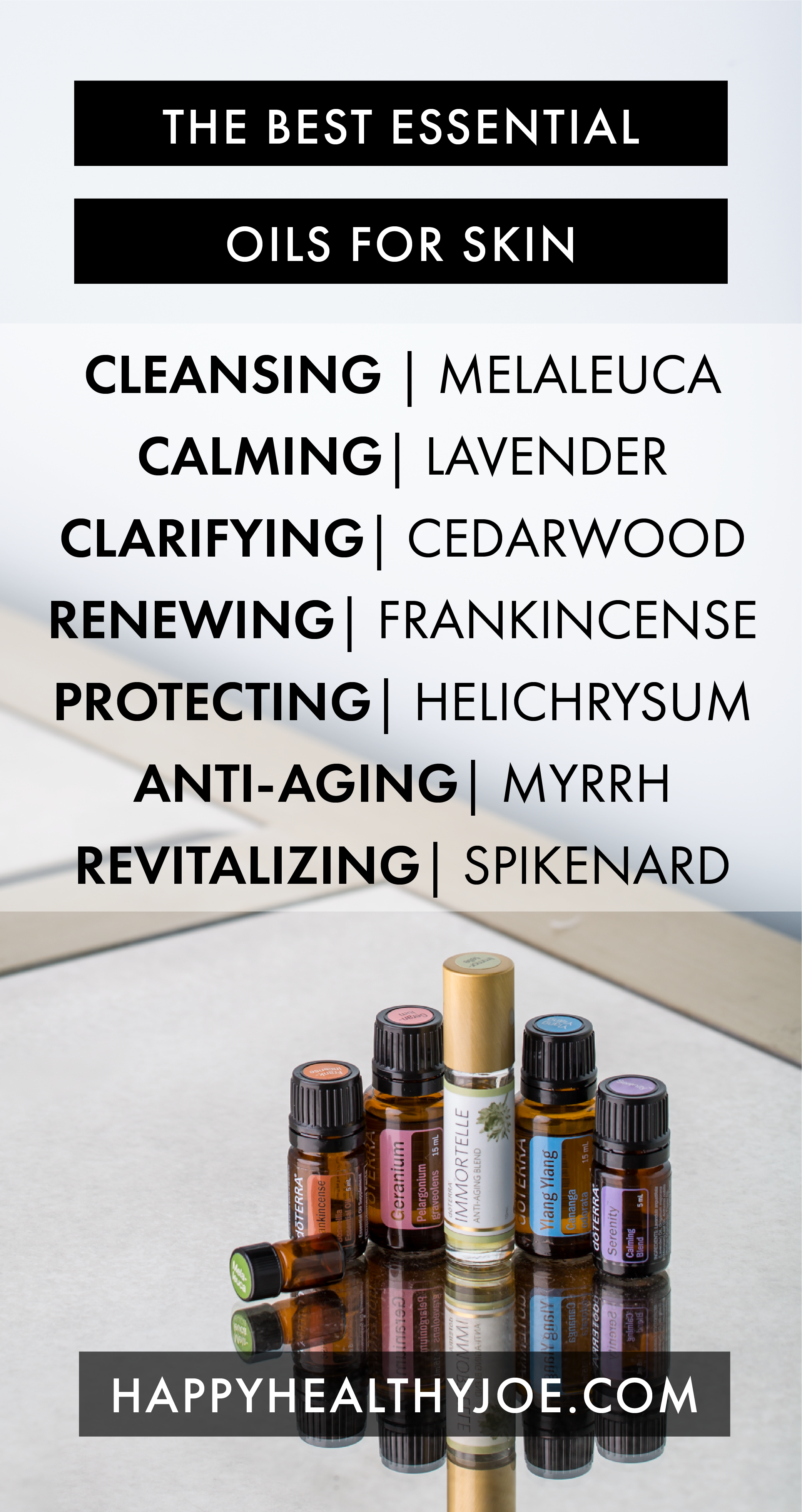 Save this essential oil infographic to Pinterest for easy reference!
WHY DŌTERRA ESSENTIAL OILS?
There's something I like to call the dōTERRA difference.
More than any other essential oil company I've come across, dōTERRA goes out of their way to provide the most pure, potent, and therapeutically beneficial essential oils.
dōTERRA employs a self-imposed standard for purity called Certified Pure Therapeutic Grade - all of dōTERRA's essential oils must meet this standard to be sold and used. In order to be labeled Certified Pure Therapeutic Grade (or CPTG for short), a batch of essential oil must pass eight different tests- read up more on the process here!
Because of this testing process, you can be confident that dōTERRA essential oils are safe, pure, and effective to use in the ways described above and why I choose to use them in my integrative health coaching practice.
Each essential bottle also includes a Quality ID # that you can use to track where your oil was sourced and view the GC/MS test results for the batch. How cool is that?!
From my experience, dōTERRA essential oils are the best out there.
BUT YOU DON'T HAVE TO TAKE MY WORD FOR IT.
Learn how you can get your hands on some of my favorite essential oils here, and don't forget to get your FREE essential oil guide!
Get your FREE Essential Oil Guide!
Subscribe to get the latest and greatest in your inbox!
Happy Healthy Joe