Save Time & Money with this Cold Brew Coffee Hack
Get your FREE Essential Oil Guide!
Subscribe to get the latest and greatest in your inbox!
This post may contain affiliate links. Please read my affiliate disclosure for more info.
It's mid-summer here, which means Cold Brew season is in full swing!
Nothing like an ice-cold cup of bean water on a hot sunny day! Ok…maybe that's not that best descriptor (albeit an accurate one)…but you get what I'm saying.
What doesn't feel so great? Dropping $5+ for the above-mentioned ice-cold cup of bean water…which may be what you're doing (perhaps on a daily basis!) if you're going out regularly to get your cold brew fix?
A solution? Make your own!
It's actually super easy! And, if you do it right, you can brew up a batch that's even better than the one from your favorite coffee shop. Plus, you're saving money that could instead go toward something else summery and fun (like this ridiculous/amazing unicorn pool floatie!)
What you're going to need…
This cold brew is perfect in a superpower cold brew latte (with a scoop of collagen peptides and or your favorite nut milk), or on it's own!
But, before I get ahead of myself, let me share what to look for in a bag of beans to make the best cold brew.
Scroll down for the recipe!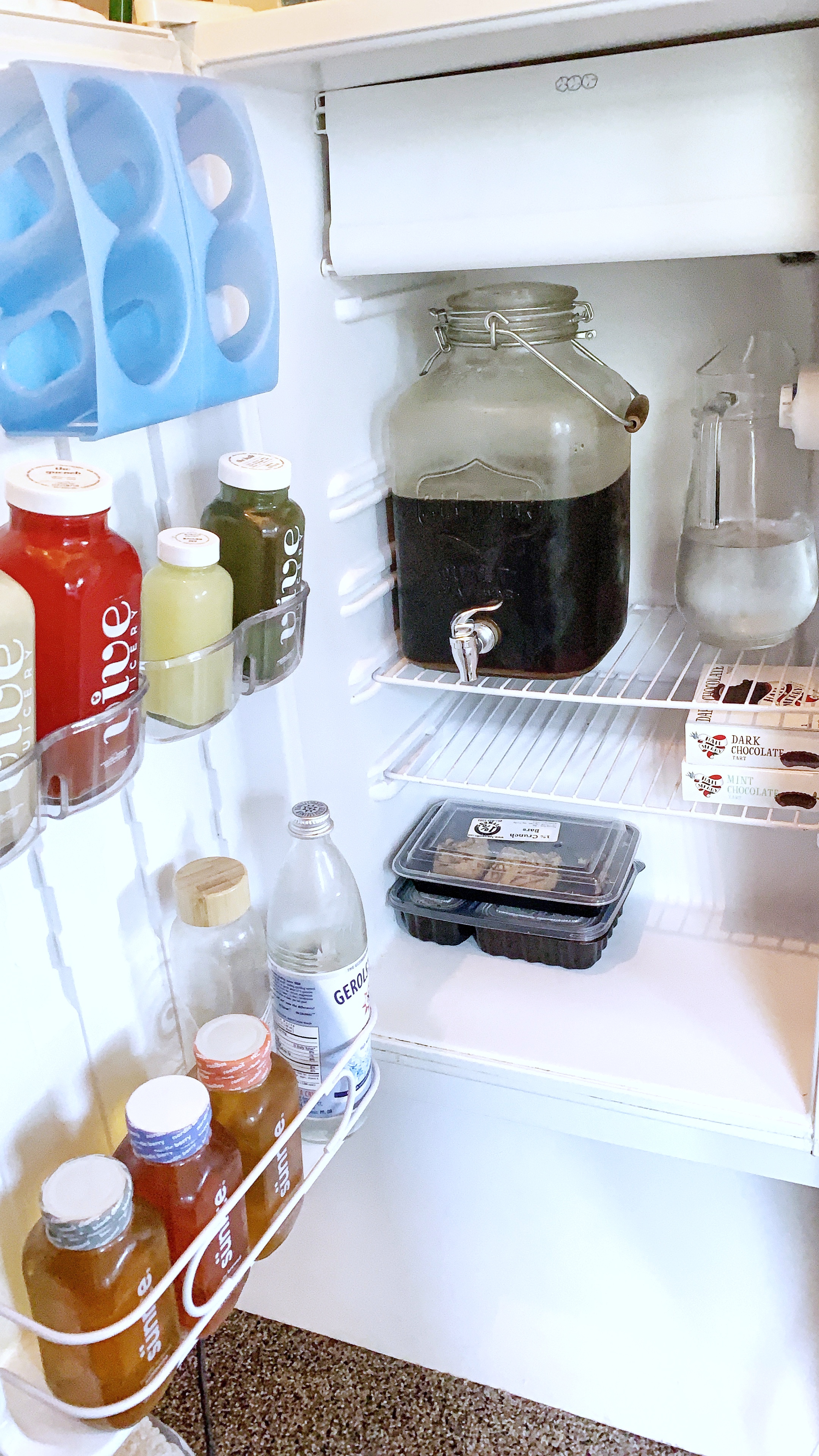 This is what the finished product looks like! And, before you ask…yes, I keep a mini-fridge in my closet. #noshame
Coffee beans: what to look for!
When you're selecting beans for your cold brew, you're going to want to choose a light roast with crisp, bright notes. The brighter and lighter the notes, the more refreshing and less acidic your cold brew will be!
The best taste notes? Citrus, floral, honey, sugar, berry, and fruit!
Get your beans coarse ground (like for a french press), and you'll be good to go!
Pro-tip: I love to stock up on a lot of my go-to healthy dry goods and superfoods at Thrive Market! They offer a 25-50% discount on a lot of natural living products and my favorite healthy pantry items.
EASY COLD BREW COFFEE (BULK BATCH)
INGREDIENTS
12 oz ground coffee

2 gallons filtered water
DIRECTIONS
Take ground beans and put them in nut milk bag. Secure the bag so grounds can't escape (a rubber band works great for this).

Take your 2-gallon glass beverage dispenser and fill up with filtered water, leaving room to insert the nut milk bag filled with coffee grounds. Carefully insert the bag.

Put the lid on the beverage dispenser, and let it brew! You can place the beverage dispenser in the refrigerator or leave out on the countertop - it's all a matter of preference. Allow it to brew for anywhere from 12-24 hours - the longer you let it brew, the stronger it will be! I have found that with a light roast coffee, 24 hours is the perfect amount of time. If you choose a medium or darker roast, a shorter brew time may be more appropriate. Ultimately, it's all a matter of preference.

Once the brew time has been completed, remove the nut milk bag filled with ground coffee from the dispenser (allow water to drip from the bag back into the container, but I don't recommend squeezing it). If the brew tastes stronger than you'd like, top off the beverage dispenser with filtered water to dilute it.
And there you have it!
This is a cold brew concentrate, so I recommend diluting it in equal proportions with water, ice, or your favorite nut milk or creamer.
Enjoy!
Joe Struhs